2021 TCSLEA Holiday Party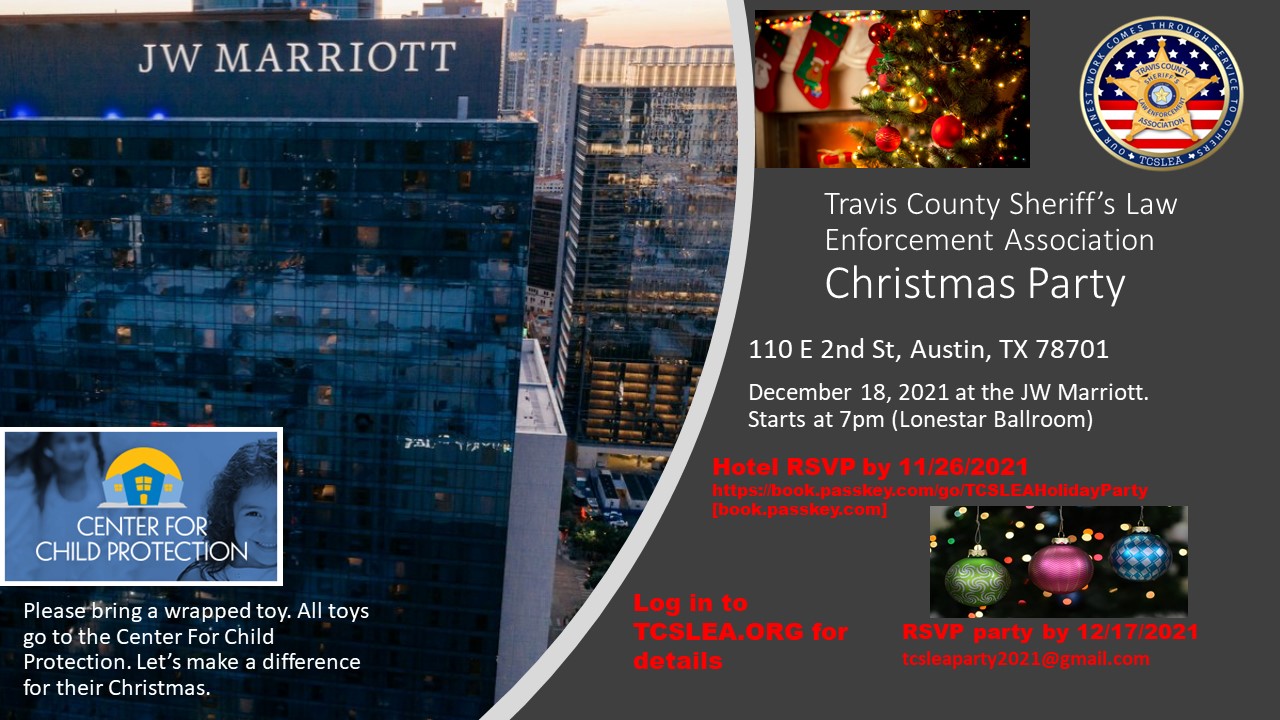 Travis County Sheriff's Law Enforcement Association (TCSLEA) and the JW Marriot Austin invites TCSLEA members to the 2019 Christmas Party on December 18, 2021 at 7 pm located at 110 East 2nd Street, Austin, Texas 78701. This is a members only event. Anyone not a member wishing to attend please join on www.tcslea.org
RSVP only at tcslea2021@gmail.com by 12/17/2021
Please book your room using this link: https://book.passkey.com/go/TCSLEAHolidayParty [book.passkey.com]
Our guest room block rate is set at $149. Reserve them as soon as you can before they get booked up. You are not charged until the night of the party.
The event will take place on the 3rd Level. Please check in at the table.
We recommend parking at the JW Marriott parking lot especially if you are staying overnight. Discount parking of $15 per Vehicle or Self-Parking and $25 per Vehicle for Valet Parking to Capacity based on Availability (Not good for overnight parking). Overnight parking is $39.
Please bring at least one unwrapped toy or gift. They will go to the Center For Child Protection. https://centerforchildprotection.org
(The Center for Child Protection is a nationally accredited children's advocacy center and the only non-profit in Travis County involved in the investigation of crimes against children. For more than 30 years, the Center has been the first stop for children in Travis County who are suspected victims of sexual abuse, physical abuse and for children who have witnessed a violent crime)
The following items are what are needed:
Sweat pants (boys, girls, teens)

Toys

Leggings

Long sleeve shirts (all sizes)

Jackets (all sizes)

Liquid glue

Undergarments (all sizes)

Socks (all sizes)

Full size shampoo/conditioner
Page Last Updated: Oct 19, 2021 (05:45:53)